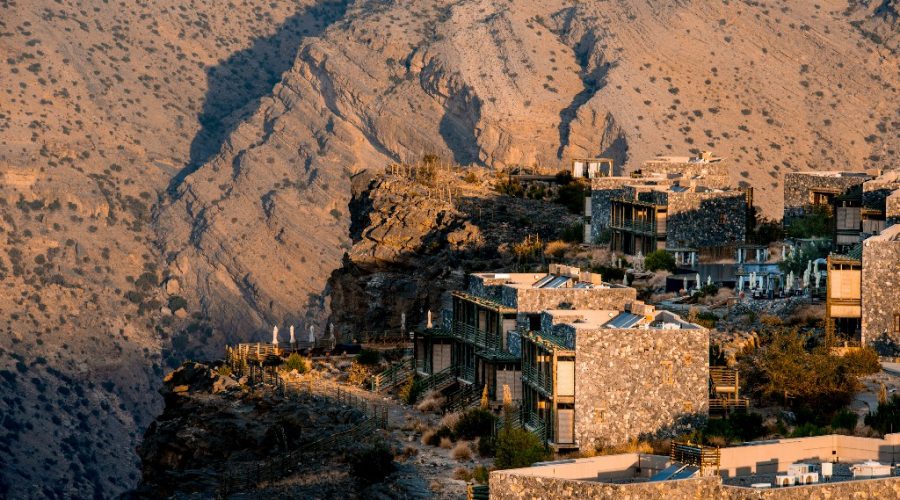 Alila Resort is located in Jabal Akdar one of the two highest peaks in Oman, the term J abal Akdar means "green mountain" and is famous as well as for the beauty of its landscapes for the cultivation of roses that in the months of March and April they intoxicate the air with their perfume.
Following the dictates of LEED (Leadership in Energy & Environmental Design) this resort was built and designed in harmony with the environment, inspired by the typical Omani buildings of the region combined with contemporary minimalist architecture creating a delicate balance between modernity and tradition, offering a unique and relaxing environment.
The spectacular views of the mountains below , the spacious swimming pools, the furnishings made with local materials, the handicrafts, the handcrafted doors made of solid wood, contribute to creating that magical atmosphere that makes this hotel one of the most luxurious in the Sultanate. We remind you that due to the road regulations in force in Oman, the mountain of Jabal Akdar can only be accessed with a 4×4 off-road vehicle. 
The resort has a SPA where it is possible to carry out regenerating and relaxing treatments for the body and mind in the exclusive style that distinguishes the Alila resort brand. The resort has a swimming pool with stunning views, library, gym, room service, free WiFi, laundry and babysitting service, meeting room, bicycle rental. 
The resort has 78 suites and villas of various types: Mountan view, Horizon View Ridge view, Jabal Terrace, Loft suite. The Mountan view type has connecting rooms. All rooms have a living room, private bathroom, air conditioning, bathrobe and bedroom slippers. 
Note: During the period of Ramadan and other Islamic holidays, bars, pubs, restaurants, discos and night-clubs may be closed or offer partial service at fixed times, in accordance with the provisions of government and religious regulations.