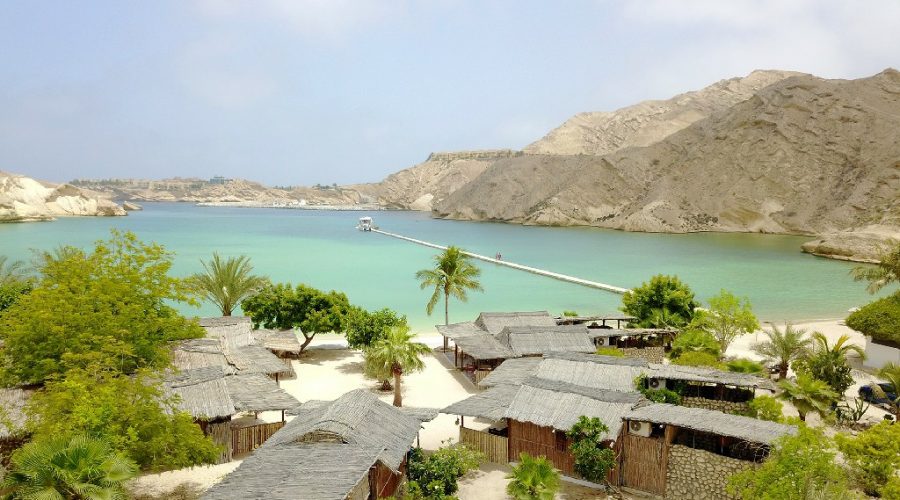 This idyllic tropical resort is nestled within the Al Hajar Mountains, a natural haven located within the beautiful private Al Jissah bay in Qantab, overlooking the Arabian Sea. The dramatic mountain range envelopes the sandy coves scattered across the stunning turquoise-hued waters which is home to a plethora of marine life.

Situated on one of the most beautiful upscale casual beaches, it is just a short distance from popular tourist attractions, including Mutrah Souq. From fine dining to beachfront views, Muscat Hills Resort offers guests everything they need for a holiday, private event or a beach day pass.
When you need a break from reality and want to disconnect, there is nothing quite like the great outdoors. The sun seems to shine brighter here and beach life is full of taste, fun, cocktails and exquisite services.
Away from all the stress of everyday life, our beach huts are a great way to reconnect with yourself – and get back in touch with nature. Discover how stay in Muscat Hills Resort becomes the point of reference for the good life.
 Bringing Ibiza to Oman was the idea which Muscat Hills Resort was built upon in late 2016. With a multi-national team of experts from across the globe, the venue has transformed into a welcomed escape from regular city life.
Prior to 2016, the venue was Oman's first and only dive center and after extensive renovations, it transformed into a beach club well-known for the best monthly parties and bringing renowned DJs from across the globe.
The vibrantly designed tropical resort is the only Mediterranean resort with a beach club in Oman.
Muscat Hills Resort underwent a full renovation in 2016 involving the beachfront bar and restaurant, as well as the swimming pool, reception area and dive centre facilities.
Dutch designers Patrice Aaftink & Jean Marc des Bouvrie merged the clean and crisp white Mediterranean décor with the glamorous nostalgia of Middle Eastern design. The resorts Mediterranean inspired décor has been carefully crafted to capture the essence of Ibiza.
Muscat Hills Beach Club was a deep extension of their wild imagination and smart ideas. Bright, bold, contemporary seem the right expression for the entire project.