Shangri-La Al Husn Resort & SPA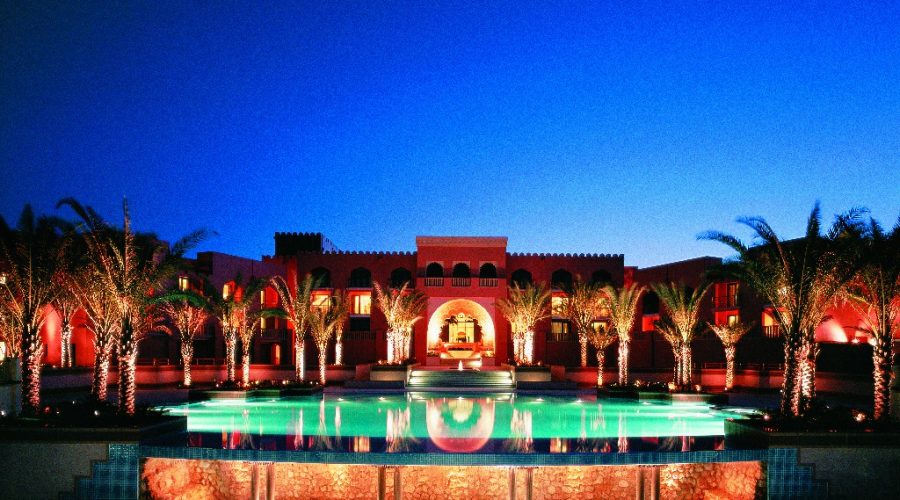 Shangri-La Al Husn Resort & Spa redefines Omani elegance and Asian hospitality… 
Standing majestically on a high point of the cliff overlooking the turquoise waters of the Gulf of Oman, Shangri-La Al Husn Resort & Spa presents a new model for luxury hospitality in Muscat.
As you arrive at the palatial Al Husn, which means "castle" in Arabic, traditionally dressed doormen stand within the heavy carved wooden doors to offer a royal welcome befitting a real Arabian palace. Within seconds, the journey from home to the hotel becomes a distant memory as you embrace the atmosphere drenched in tranquility – your stay at Shangri-La Al Husn Resort & Spa has only just begun.
You will be forgiven for thinking you have reached the home of an Omani royal. Dripping with regal opulence, the resort's inviting design fuses Moorish and Omani architectural elements with the Sultanate of Oman's rich heritage as reflected by strong cultural references throughout the décor.
As you explore further, the central courtyard is inspired by the Alhambra of Granada, and is vacant, with the exception of water features and palm trees. It is a great spot to enjoy cocktails each evening at sunset, that magical time of day when the sun is dropping below the horizon.
With 180 rooms and suites, including the largest entry level rooms in Muscat, Shangri-La Al Husn Resort & Spa elevates Omani hospitality to new heights, embracing the natural Asian service for which Shangri-La is renowned. Luxurious amenities and privileges are extended to all guests. Butler service, daily afternoon tea, pre-dinner cocktails, pre-loaded iPods with personalized music selection, and mini bar ensure all needs are catered to. A team of dedicated Shangri-La specialists is available to tailor your experience from pre-arrival to departure.
You will embark on an inspiring culinary journey through 4 restaurants that offer delicious Arabic and international dishes, and 2 lounges that serve premium evening cocktails. Indulge and enjoy innovative dining experiences including a beach grill, serving freshly caught sustainable fish  and meat selections, and the poolside café's locally sourced and organic menu elements.
As a guest at Shangri-La Al Husn Resort & Spa, you will enjoy signing privileges at 15 additional dining venues across adjacent sister property Shangri-La Barr Al Jissah Resort & Spa. The hotel's spectacular location also sets the scene for some very romantic outdoor dining experiences.
The private and secluded 100-metre beach and infinity pool are reserved for the exclusive use of guests Shangri-La Al Husn Resort & Spa.
Elsewhere on this beautiful property, you can relax at Hareer Spa by L'OCCITANE, or work out at the state-of-the-art fitness centre.
Shangri-La Al Husn Resort & Spa strives to provide an atmosphere of the tranquility, and thus maintains a policy of only encouraging guests over the age of 16.