DAY 01
Arrival at Muscat Airport – Overnight at Muscat (Private vehicle)
Arrival at Muscat International Airport. Meet and greet by the representative of the local company and transfer to the hotel.
(Check-in time is 14:00 Hrs. Early check-in subject to availability)
Overnight at a hotel in Muscat.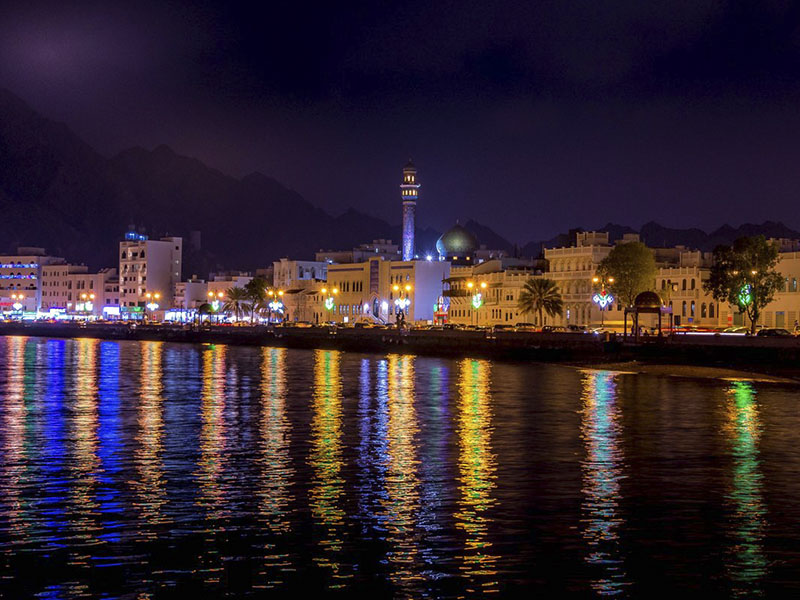 DAY 02
Hotel in Muscat – Nizwa visit – Bahla – Jabreen – Birkat Al Maouz – Overnight at Jabal Akhdar – (Private vehicle) (280 KM)
Breakfast at the hotel.
Proceed to the Nizwa city, the former capital of Oman. It rises around the walls of the famous Fort. Its construction embraces both traditional and modern architectural lines. Visit the Souk, which has remained for hundreds of years and home to many local industries. Omani daggers (khanjar), copper, silver jewelry, sale of livestock, fish, vegetables, and handicrafts can be found at the souk.
Read more…
Photo stop at the imposing Bahla Fort (UNESCO site). It was built in the third millennium BC. The length of the south facade is approximately 112 meters, while the east facade is approximately 114 meters.
Visit of Jabreen Castle, a large rectangular building consisting of five floors and containing 55 rooms. This castle stands out for the inscriptions and frescoes that adorn its rooms. The castle's ceilings are decorated with Islamic-era paintings and inscriptions, and its doors are beautifully carved. A Falaj runs through the centre of the castle.
Photo stop at Birkat Al Maouz, one of the most famous ruined villages in Oman. With a large banana plantation and picturesque surroundings, the site is also home to the traditional Falaj irrigation system listed as a UNESCO World Heritage Site. It's a lovely stop that will transport you back in time.
Overnight at a hotel in Jabal Akhdar.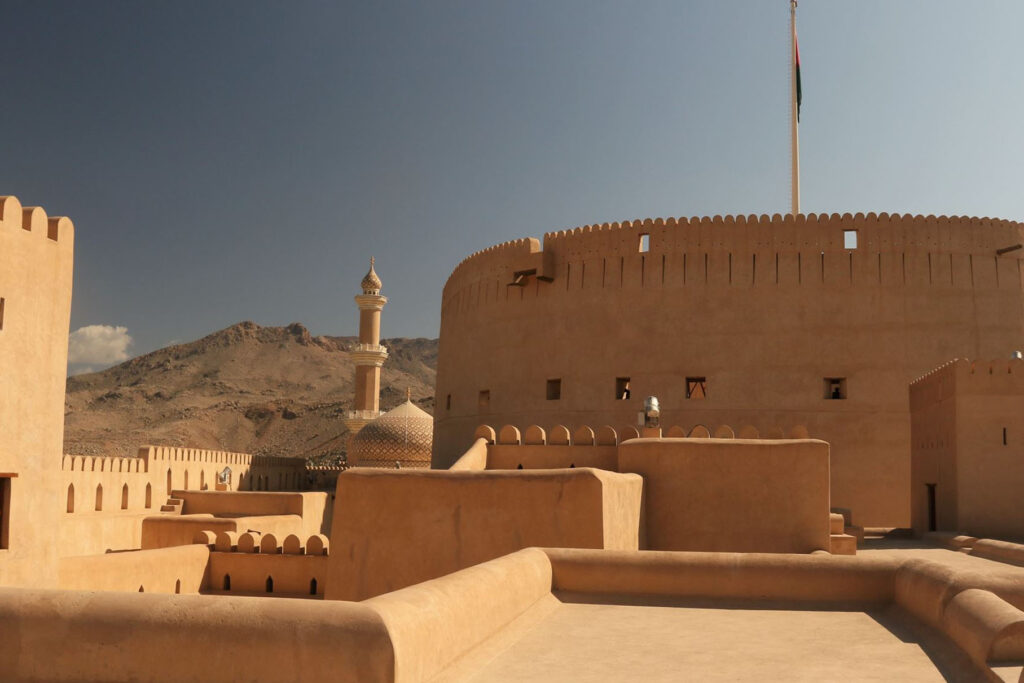 DAY 03
Hotel in Jabal Akhdar – Visit Jabal Akhdar - Overnight at Jabal Akhdar - (Private vehicle) (30 KM)
Breakfast at the hotel in Jabal Akhdar.
Jabal Al Akhdar 'The Green Mountain', is part of Al Hajar Mountains range in Ad Dakhiliyah Governorate of Oman.
Visit the Saiq Plateau at 2,000 m above sea level. Jebel Akhdar is famous for its labyrinth of wadis and terraced orchards, where pomegranates, apricots and roses grow in abundance due to its mild Mediterranean climate.
Overnight at a hotel in Jabal Akhdar.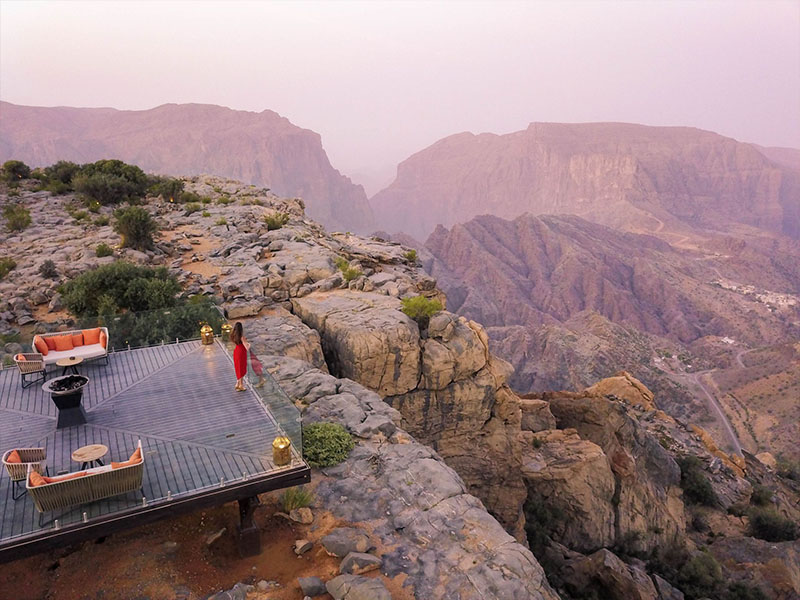 DAY 04
Hotel in Jabal Akhdar – Al Hamra – Misfat - Al Manzifat – Al Sharqiyah Sands (Wahiba Desert) – Overnight at Wahiba - (Private vehicle) (350 KM)
Breakfast at the hotel in Jabal Akhdar.
Visit the village of Al Hamra, one of the best-preserved ancient cities in the country and home to the living museum of Bait Al Safah. Walk among the old abandoned buildings and the old mud houses. Visit the museum to discover Omani traditions with local men and women showing the ancient practices.
Read more…
Photo stop at Misfat Al Abreen, the village boasts wonderful agricultural terraces, beautiful alleys and old houses built on massive rocks. The old dwellings of Misfat Al Abreen are traditional mud houses with palm roofs and are unique in that they are built on solid rock foundations. Here you will also see the traditional Omani irrigation canals (Falaj system) where water is channelled from underground sources to support agriculture and domestic use.
Visit of Al Manzifat, a ruined village. The narrow alleys enhance the traditional architecture of the village where it was necessary to protect oneself from tribal raids and wars during the Middle Ages.
Arrival at the beginning of the Wahiba Desert. The dunes reach 200 km in length and 100 km in width to the Arabian Sea and have been the land of the Bedouins for 7,000 years. Possibility to venture into the high dunes and watch an unforgettable sunset in the desert, and then safely reach the camp.
Overnight in a camp in the Wahiba desert.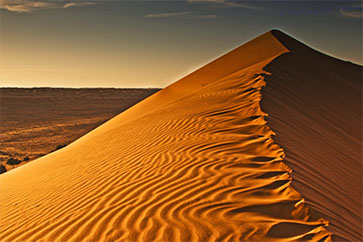 DAY 05
Camp in Wahiba – Wadi Bani Khalid – Sur – Wadi Tiwi - Overnight at Muscat - (Private vehicle) (350 KM)
Breakfast at the camp.
Visit the enchanting Wadi Bani Khalid, past the village with its endless date plantations. You reach the magnificent Wadi. The pools are cool, deep and absolutely breath-taking. Free time to dive and try the crystal-clear waters.
Read more…
Visit Sur, a placid seacoast town with its striking traditional dwellings, is a pleasant getaway and one of the most important towns in the Eastern region. A trip through Sur's labyrinth of streets reveals many fine old houses with carved doors and arabesque windows. From the corniche, the dhows in the harbour can be seen against the scenic backdrop of the Gulf of Oman.
Visit Wadi Tiwi. It has been visited by explores for centuries. Ibn Battuta described its following streams, which still course through the valley today as carefully controlled Aflaj (the plural for Oman's Falaj water system). Several small villages are overlooked by the valley's cliffs; their inhabitants have carefully managed the water to create small farms with date palms, papaya, banana and more.
Overnight at a hotel in Muscat.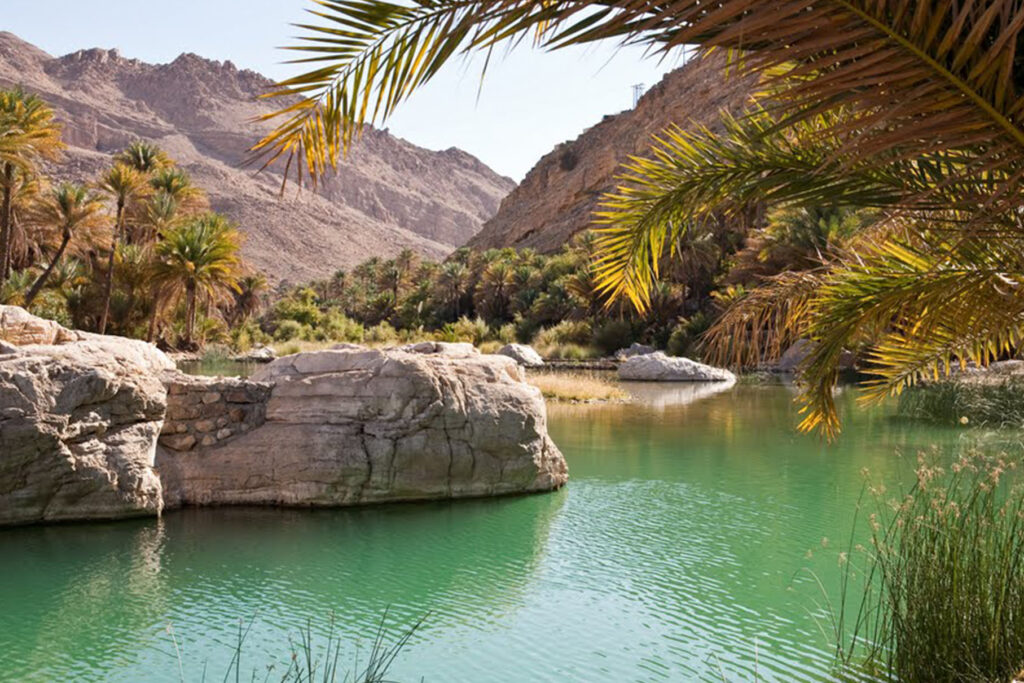 DAY 06
Hotel in Muscat - Muscat city tour – Overnight at Muscat (Private vehicle) (50 KM)
Breakfast at the hotel.
Departure for a Muscat city tour. It starts with a visit to the magnificent Grand Mosque built with sandstone and marble. A beautiful Swarowski chandelier and a huge handmade Persian rug adorn the main prayer hall. Cross the Ministries area and move towards the architectural beauty and special secrets of the Royal Opera House Muscat. You will discover the history and genesis of Oman's premier venue for arts and culture in all its structural boldness, technical innovation; and perhaps most of all, ROHM's breathtaking decorative artistry with motifs derived from Islamic, Mughal, Oriental and European art.
Read more…
Continue to Muttrah Souq, it is one of the oldest markets in Oman, dating back to about two hundred years ago. Its antiquity has perhaps increased the scope of its beauty, magic and charm.
Photo stop at the Al Alam Palace, the Sultan's Palace and the Mirani and Jalali Forts (outside only). Continue to the private museum Bait Al Zubair, located in the historic centre of Muscat is known for its collection of traditional costumes, ancient jewelry and weapons.
After lunch, return to the hotel and rest of the day at leisure.
(Notes for visiting the Mosque: Please consider the dress code for visiting the Grand Mosque: women must completely cover their hair, arms and legs; men must wear long pants and a long-sleeved shirt / shirt. Visit not possible on Friday).
Overnight at a hotel in Muscat.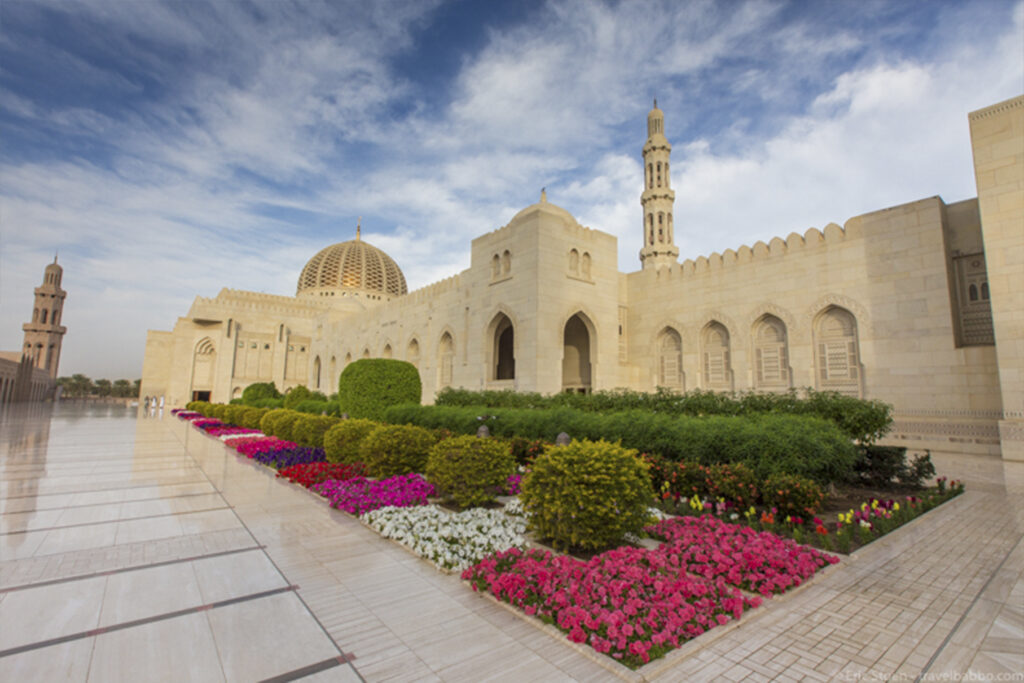 DAY 07
Hotel in Muscat – Island visit – Overnight at Muscat (Private vehicle) (- KM)
Breakfast at the hotel.
You will be transferred to "Marina Bandar" and take the sharing or private boat to an exclusive secluded beach in Bandar Kairan. Feel free to Swim, Snorkel among colourful Corals or tropical fish or just laze on a tranquil beach, make your own rules on this secluded island. Beach Mats, Beach umbrellas and towel will be provided. On your return to Marina, enjoy Oman's magnificent coastal scenery.
Overnight at a hotel in Muscat.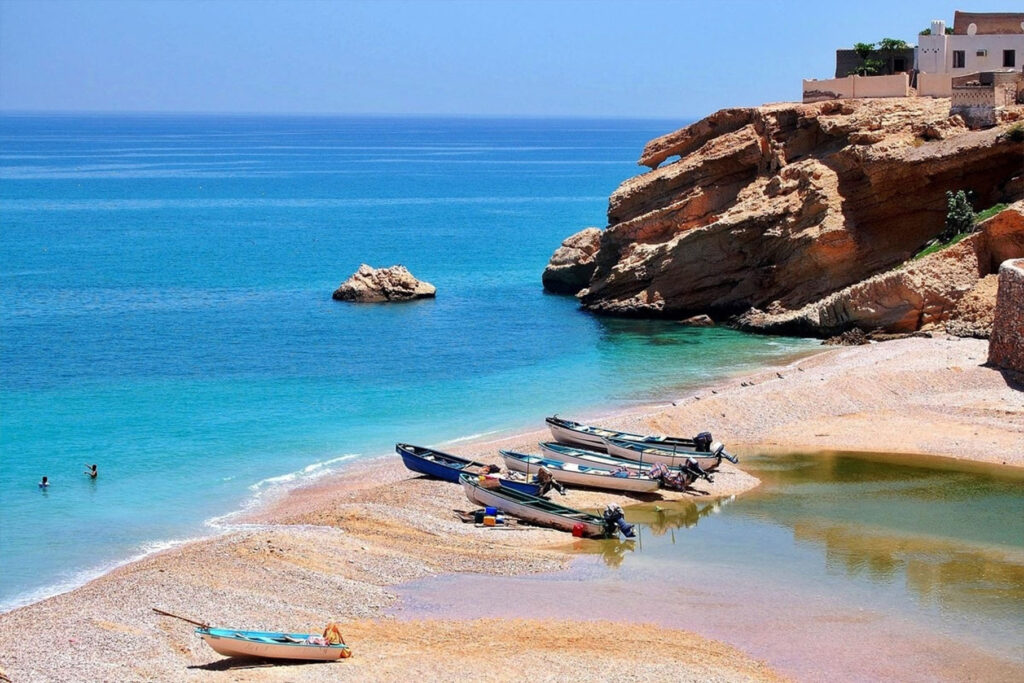 DAY 08
Hotel in Muscat – Departure transfer to Muscat Airport – (Private vehicle) (40 KM)
Breakfast at the hotel in Muscat.
Check-out time is 12:00 Hrs (noon). According to the flight details, you will be transferred to Muscat International
Airport for departure.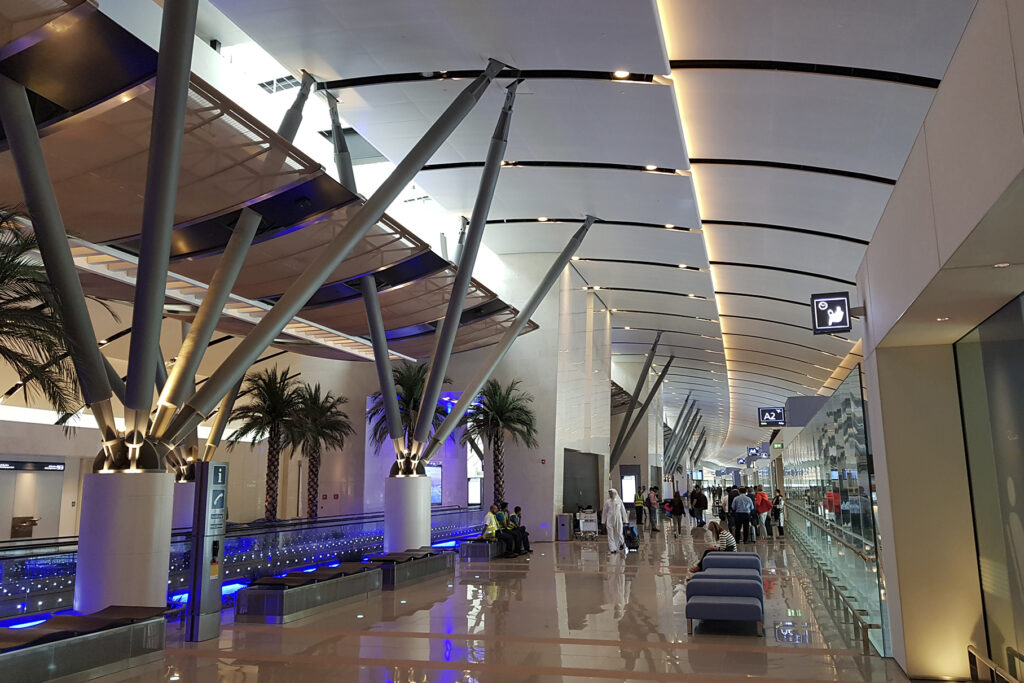 Price
| | |
| --- | --- |
| Description | Price |
| Per person sharing a double / twin room | Inquire now |
Inclusions & Exclusions
INCLUDES:
Guide:
English, Italian, German, French, Spanish speaking guide during all the excursion days.
Hotels and meals:
Accommodation in selected hotels on Bed & breakfast, Half board or Full board basis.  
Air-condition transportation with professionals drivers:
Airport transfers with English speaking drivers
Saloon Car/4x4/Van/minibus/Coach as per the program (vehicle according to the number of pax and the locations) 
4x4 Jeep Shuttles if required
Others:
Supply of drinking water in the vehicle  
All entrance fees as per the program 
NOT INCLUDES:
International flights  
Visa charges  
Early check-in & Late check-out.
Any other meals not mentioned as included  
Any item of personal nature.
All beverages unless stated otherwise.
Tips and porterage (if the service is good, we recommend clients to tip as follows):
Guide:   6-8 usd/pax/day
Drivers: 3-4 usd/pax/day
Availability at hotels is subject to confirmation of the tour and travel dates
Payment Policy
Please note we require 50% of the payment on confirmation and the balance 4 weeks prior to arrival or the full payment can be settled on confirmation.
Payment Methods                                                         
Bank transfer.
Cancellation Policy
45 days prior to the arrival = 60% of the total amount
44 – 30 days prior to the arrival = 80% of the total amount
29 – 00 days prior to the arrival = 100% of the total amount
All our holidays can be tailor-mode for you
This is an example itinerary to give you an idea of what we can offer.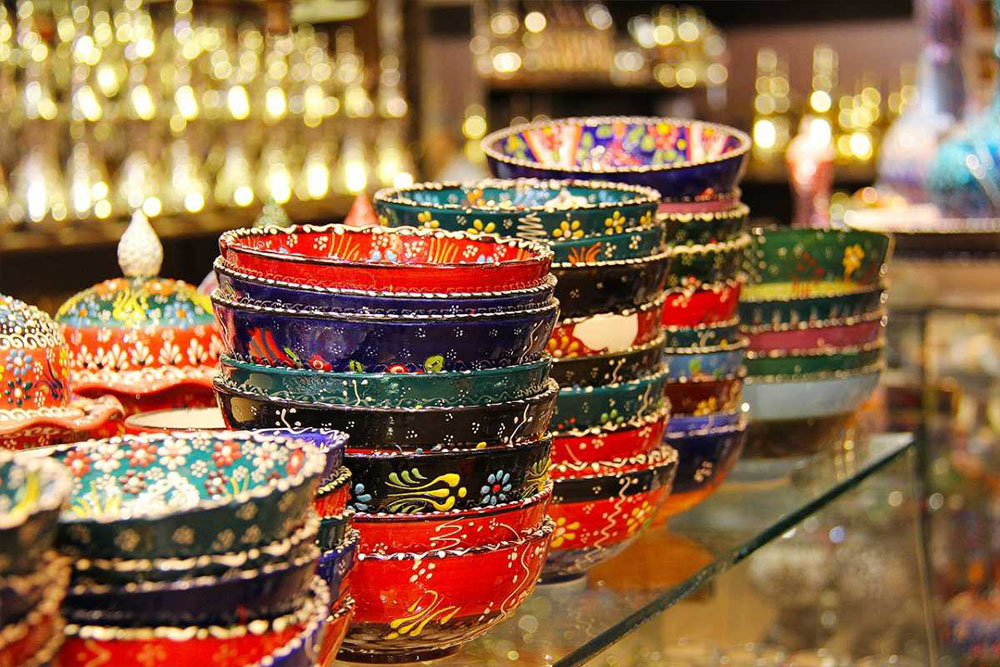 Colours of Oman

10 Nights / 11 Days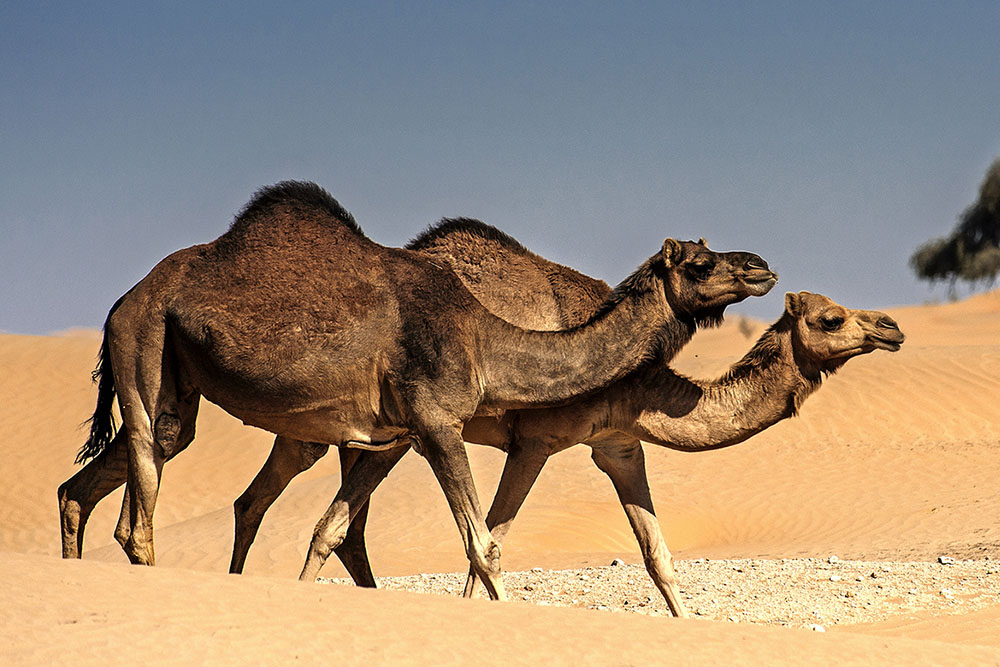 Glimpse of Empty Quarter
9 Nights / 10 Days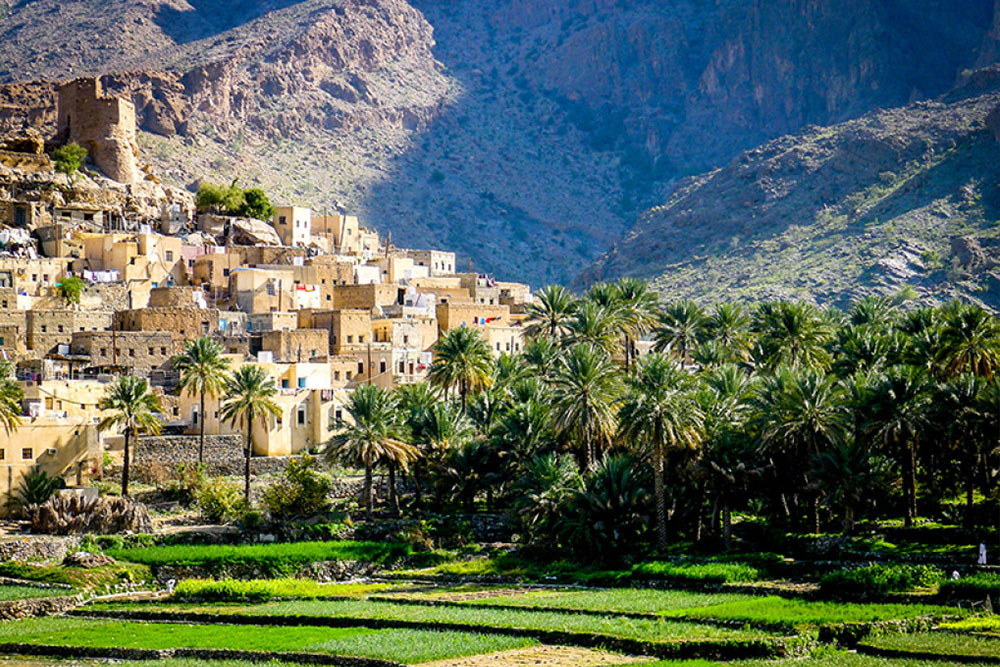 Oman Encounter

5 Nights / 6 Days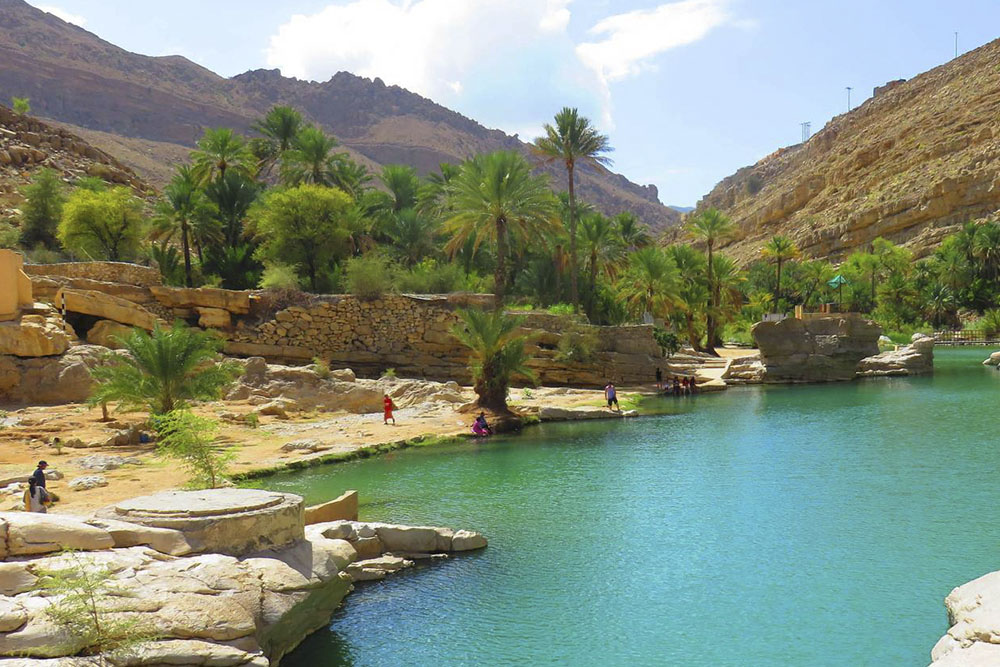 Scenic Oman

7 Nights / 8 Days